chevron marine people profile: sotiris meklis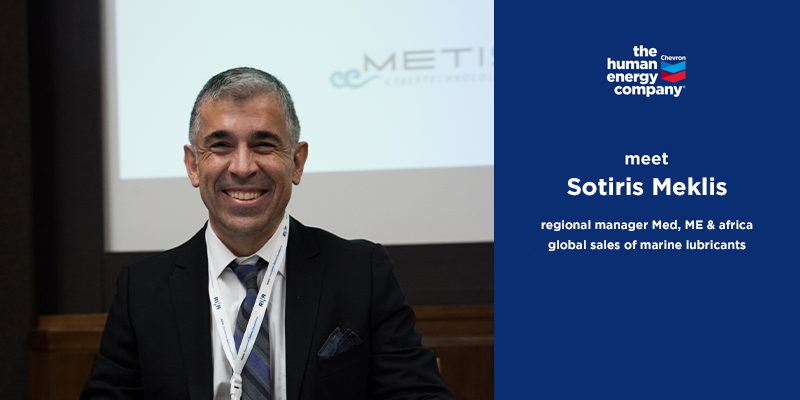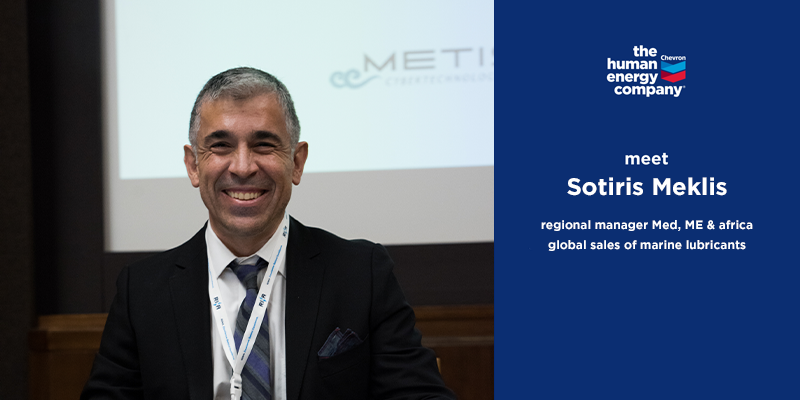 tell us about your career path
A Managerial professional with extensive experience on both the technical and sales side of marine lubricants. I joined Chevron Marine Lubricants nearly ten years ago as a Regional Manager. Before becoming Regional Manager, I was working as Country Manager for different companies in the marine lubricants, at the initial part of my career started on the petroleum exploration side. Trained in Petroleum Engineering at the University of New South Wales, Australia, I hold an MBA degree, from University of Indianapolis, USA.

what do you believe chevron marine has to offer customers?
We are collaborating in new ways with extensive capabilities and partnerships to help deliver scalable solutions with measurable impact. Our goal is to help customers meet their lower carbon ambitions and reduce the carbon intensity of our operations.

what is your most rewarding project to date?
Participating in the project of marine lubricants product development, together with Chevron's technology team to address challenges related to the use of different types of fuels on board ships.

what do you think is the biggest challenge facing the industry at the moment?
Some of the problems facing the maritime industry include changing regulatory compliance, environmental concerns, and technological advancements. The industry must continue to transform and adapt to navigate these common maritime challenges successfully.

who do you most admire and why?
My first supervisor, he was an inspiration for me. He has a tremendous moral compass. If something appeared morally questionable, he taught us to lean towards the right thing to do. He was right as it strengthened our relationship with clients and benefited everyone in the end.

who do you most like to follow on social or listen to on a podcast?
Tony Robbins is the person that I frequently follow in the media. His phrase "It is in your moments of decision that your destiny is shaped", is what attracted me to buy his first book and then follow him in the podcasts and social media.

what piece of advice would you give to someone starting out in your industry?
There's never going to be the precisely right moment to speak, to share an idea, or take a chance. Just take the moment—don't let thoughts like "I don't feel like I'm ready" get in the way. Look to see if you have the main things or the opportunity will pass you by. And, don't let perfect get in the way of really good.

what do you most want to achieve in the next 12 months?
continue building on our chevron marine lubricants vision: "to be the lubricants partner of choice for the global shipping industry"

what do you admire about the chevron marine lubricants brand?
We deliver world class reliability in our product, services and technology. We have the knowledge and expertise to rapidly develop innovative solutions for our customers in order to meet the ever changing shipping industry and environmental regulations.

what's the best piece of professional advice you've ever received?
Become a lifelong learner: continue to learn no matter what stage of your career you are in. When you learn continuously, you can gain more skills and become flexible and adaptable. This the first step to become successful in your professional and personal life.

what behaviour or personality trait do you most attribute your success to, and why?
I have the desire and drive to work harder than most and make sure things get done. I pride myself of getting things done and take charge when necessary.

what did you want to be when you grew up?
Petroleum Engineer and work in the energy sector.

if you could become an expert at something in an instant, what would it be?
Become a motivational speaker. To give formal or informal speeches to a group of people to help them on personal and professional success.

what skill do you think more people should learn?
Communication skills. Be a good listener and show empathy to people and understand needs and provide solutions.