We are delighted to be attending DSM again this year. The Donsö Shipping Meet takes place 28-30 August at the Port of Gothenburg, Sweden.

5th Sept - Singapore
6th Sept - Seoul, South Korea
8th Sept - Busan, South Korea
12th Sept - Tokyo, Japan
13th - 16th Sept - Chengdu, China

Chevron Marine Lubricants are pleased to once again be attending this year's IMPA London event being held 12-13 September in London, UK.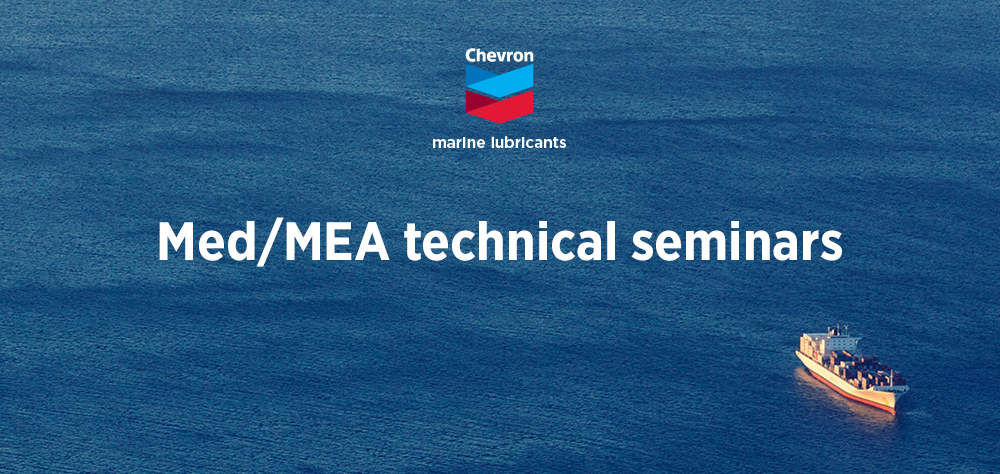 We hosted technical seminars on Energy Transition in Marine Fuels, Lubricants, and Engine Developments in Athens on May 24 and Dubai on May 26, 2023.

🌎 Dubai, United Arab Emirates
Nor-Shipping

Thank you to everyone who visited us at Nor Shipping this year. It was an incredible experience to be able to reconnect with ship owners and customers.

If you missed us, click to access a range of resources covering the theme of the event.
Sea Asia

Chevron Marine Lubricants exhibited at the 9th edition of Sea Asia which took place on 25-27 April, at Marina Bay Sands, Singapore.

🌎 Marina Bay Sands, Singapore

CMA Shipping

We exhibited at CMA Shipping Expo & Conference which took place March 21-23 at the Hilton Stamford, Connecticut, USA.
Tanker Shipping & Trade Conference, Awards and Exhibition
🌎 Resorts World Sentosa, Singapore

Chevron Marine Lubricants Insights Webinar
posidonia exhibition 2022
chevron marine lubricants insights