taro ultra advanced 40 supports global emissions goals
pat mccloud, chevron's general manager for global marine lubricants, puts its 40 BN category II lube oil into a broader context
Chevron's new Category II lube oil, Taro Ultra Advanced 40, can contribute to meeting European and global carbon emissions reduction goals, believes Pat McCloud, Chevron's General Manager for Global Marine Lubricants.
In an interview marking the new oil's arrival in the market, he said that the new lubricant – which is designed to suit low-sulphur fuels in two-stroke engines – reflects a long-term commitment to invest in Chevron's technical capabilities to have lubricating solutions for other fuels as they come to market. 
Chevron is well placed to understand the likely trajectory of those future fuels. "We are an industry leader in terms of producing energy solutions", McCloud said, with many options for the future. "LNG, biofuels, methanol, ammonia, e-fuels, all are going to be part of the basket of fuels available to the to the industry", he said, "So, for Chevron, it will be important to choose where we want to participate in those value chains." 
Currently, Chevron is already supplying marine biofuels in Singapore, "and we're evaluating opportunities to do that in other markets", he added.
"Fuels, such as these, will be a key factor in a ship owner's ability to meet the EU's 'Fit for 55' aspirations," he said, referring to the EU's target of cutting emissions from all sources by at least 55% by 2030 and achieving carbon-neutrality by 2050. "Our lubricating solutions are going to coincide with the fuel choices by our customers", he added.
"As the marine sector is a global business, we support having global regulations and global objectives instead of regional ones". That would allow shipowners and OEMs to make decisions that will meet global standards, rather than tailoring solutions by country, or continent. However, Chevron is committed to comply with IMO's 2030 and 2050 emission targets", he commented.
Chevron has a global strategy for distributing their recently launched Taro Ultra Advanced 40. The oil was developed in response to a service letter issued by MAN Energy Solutions in May 2020 that defined two quality levels for lube oils, suitable for its two-stroke engines. For Mk9 engines and above, only the higher quality, Category II, lubes would be suitable but, at the time, only high-BN lubes had been granted 'no objection letters' (NOLs) by MAN Energy Solutions to confirm that status.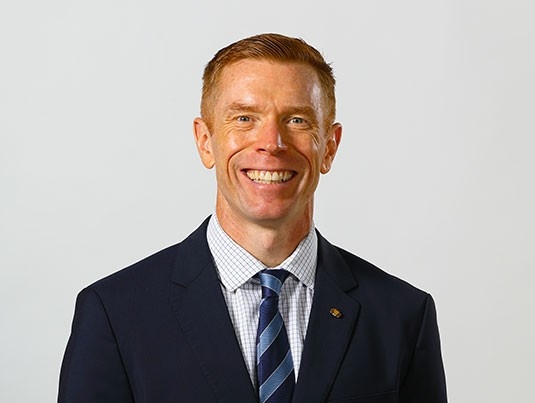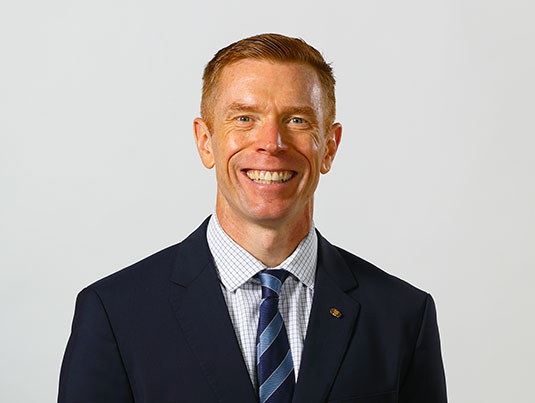 testimonial
"the choice of fuel is a trillion-dollar question for the industry for the next 30 years... i'm confident that chevron is well-positioned to provide the products to support the industry."
- Pat McCloud, General Manager, Europe & Global Marine Lubricants
Lube oil makers were challenged to develop a 40 BN oil that would be suitable for low-sulphur fuel, while providing the engine cleanliness associated with existing Category II high-BN alternatives – a combination that "broke the relationship between higher sulphur fuel oils and higher alkaline lube oils", McCloud said. He went on to say, "It created a gap around performance and cleanliness that needed to be resolved."

Taro Ultra Advanced 40 was Chevron's answer to that dilemma and it received a Category II NOL from MAN Energy Solutions in April 2022. This confirms it is suitable for use with  VLSFO, distillate fuels, LNG, ethane, methanol and LPG, and Chevron is working with MAN ES on securing approvals for additional fuels.
Since obtaining that NOL, "we have been able to commercialise the formulation and establish our first points of distribution", McCloud said. These are located in selected ports, where it sees demand from its customers and where it has supply capabilities to offer the product economically and reliably, he explained. "As the industry matures, we will implement supply strategies to ensure the product is available where our customers need it. And as more ship operators take up Category II 40 BN oils, we will expand our capabilities with a vision of having a global footprint".
Getting to this point has needed a new approach to product development. Marine lubricants are "very mature products that normally evolve incrementally", he said. "But to create a Category II 40 BN oil, we needed to make a step change in the formulation". Chevron's technical experts and formulators worked with its additive suppliers and machinery OEMs to select from a basket of components that would produce that step change in performance levels. 
Potential combinations were put through laboratory tests and then trialled in the field, with the final version possessing many of the properties of a 40 BN oil, but with the performance levels of a higher BN lubricant.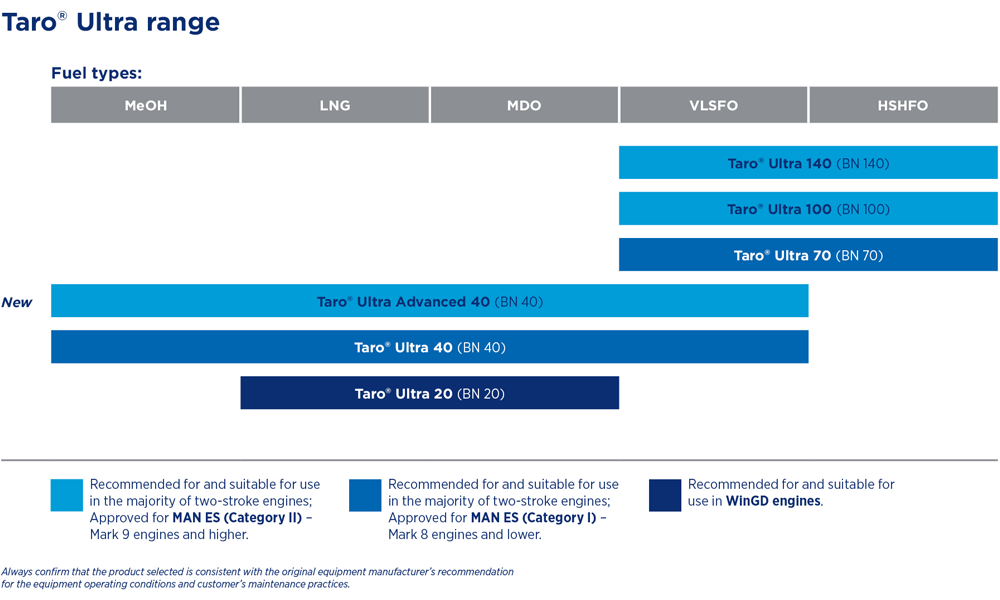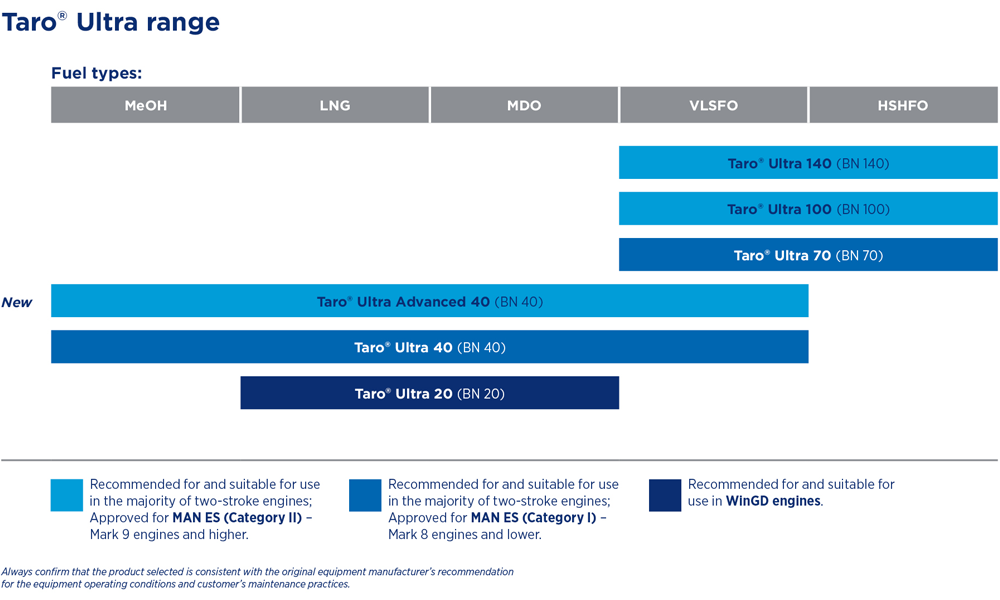 Addressing the lubrication needs for future fuels – biofuels, methanol, ammonia and hydrogen, for example – may present other challenges. 

"There's no one fuel that's going to be the fuel of choice for the maritime sector. That's a 'given' for us", he said. "However, Chevron has years of experience of lubricating LNG and methanol vessels, so I'm quite confident that we'll be able to develop products that meet the lubricating needs of our customers, regardless of the fuel". This is because "at the end of the day, we're managing cleanliness, lubricity, heat and friction", he added.
Nonetheless, "The choice of fuel is a trillion-dollar question for the industry for the next 30 years", he said. Hence, "what I am keen to understand are the signals being sent by shipowner," about their newbuildings and their technology choices. This will indicate what engines are going to power the Fleet of the Future out to 2060 and beyond."
In particular, he referred to AP Moller-Maersk, which has several ships on order that will use green methanol. For these newbuilds, Maersk has entered into a strategic relationship with several global producers to provide the fuel they will need. "That's an indication to where they see the industry is going", McCloud commented.
Looking ahead to other future fuel options, he expects that there will be announcements in the near future about ammonia-fuelled newbuildings. Viewing this prospect from a lubricating perspective, "I'm confident that Chevron is well-positioned to provide the products to support the industry", he said.
chevron learns from COVID
Chevron's General Manager for Global Marine Lubricants Pat McCloud is proud not only of its new Taro Ultra Advanced 40 lube oil, but also of the process, much of which took place during the height of the COVID pandemic. During its onboard testing, for example, the technical team had to enter the vessel, take samples and evaluate cleanliness levels, impurities and performance and the restrictions on travel had an impact on their ability to do that.

Like every other business, Chevron's operations were affected by COVID restrictions, but despite the supply constraints and economic impacts from government-driven lockdowns, Chevron, nonetheless, built a reputation as a reliable supplier during that time. "This has been a differentiating factor for our clients, and some of its solutions are being retained", McCloud said.
Between 2020 to 2022, Chevron held several webinars that brought together subject matter experts from Chevron, OEMs and its own customers to share perspectives on fuels, on lubricating technologies and on industry matters. 
In the past, such presentations might have been held during conferences and industry events, perhaps once or twice a year, however, "we have learned that we can plug in for an hour with subject matter experts and listen to them debate the issues in our industry. This model allows for sharing of information that can be duplicated and disseminated very efficiently to our customers. Hence, that that's one thing that we will continue doing", he said. 
COVID also highlighted the benefits of collaboration between its own support teams and customers. "We dealt with many supply challenges and had to stand up response teams to ensure that we were able to supply our customers reliably", he said, and those teams were often staffed with both Chevron staff and from its customers' procurement and operations teams. 
Looking back, "I think that type of collaboration adds value across the board", he said, "because it challenges us to be a better supplier and allows our customers to be a part of the solutions when it comes to dealing with these challenges". 
These experiences have created what he called an agile framework that was enabled by the enforced shift to work more digitally during the pandemic. As a result, "I'm really excited about where we're going in terms of digital solutions", he added.