About Delo® XLI Cooling Water Treatment
Unique Organic Acid Inhibitor Technology (OAT)
Environmentally friendly, biodegrades by 92% in 18 days
Long life corrosion protection in aqueous solutions for all engine metals, including aluminum, iron, copper and solder alloys
For use as an engine cooling water treatment, a flushing fluid, or a hot test fluid for new engine blocks
Extended service life
Recommended maximum service intervals of 32,000 hours.
Extend the life of your engine with OAT corrosion inhibitor technology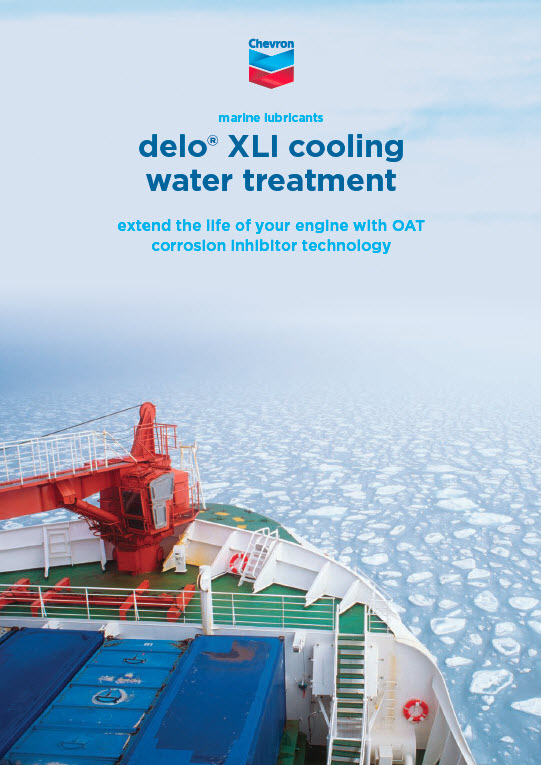 Chevron Marine Lubricants has advanced the technical frontiers in marine coolants. The Organic Acid Inhibitor Technology (OAT) in our XLI cooling water treatment has a very low additive depletion rate, ensuring long-term corrosion protection under all operating conditions. There is no need for supplementary additive top-ups.
Delo® Extended Life Antifreeze Coolant (XLC) is a cooling fluid and corrosion inhibitor for combustion engines and heat transfer systems. Havoline XLC is an ethylene glycol-based fluid that provides maintenance-free protection against freezing, boiling and corrosion. With patented silicate-free aliphatic acid technology, Havoline XLC provides long-life corrosion protection for all engine metals, including aluminum and ferrous alloys. During extensive fleet testing Havoline XLC has proven to provide protection for at least 32,000 hours.